With more than 32 million Brits spending nearly £1.45bn* on their loved ones this Valentine's Day, and with confectionery being the usual gift of choice, it is not surprising that chocolate and sweets took a large share of the eCommerce sales for this holiday and category managers are looking at ways to optimize product performance online.
To help eCommerce managers get the best insights and learnings from Valentine's Day 2020, we took a closer look at the products directly targeting the occasion in UK grocery to find where they were ranged, promoted and which brands took the biggest share of the digital shelf.
1. Ensure your Valentine's Day SKUs are optimized to cut through competition.
Valentine's stock started to appear online from mid-January right up until the big day itself. This assists in driving awareness as shoppers are already looking for gift ideas, and also allows the marketer to target the earlier purchasers.
The full range of SKUs were listed for 2.5 weeks and peaked just 2 days before Valentines; this year, however, there were fewer Valentines specific listings for 2020 vs 2019.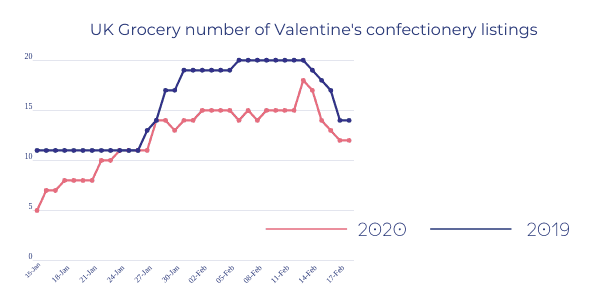 2. Understand if early promotion results in early conversion
If you overlay your sales data to the data below you will be able to understand if shoppers bought closer to the time regardless of any discounts, or if sales promotions resulted in earlier sales. This will help you understand one of your key sales drivers during the holiday period.
The data showed us that for Valentine's day 2020, 38% of listings were on promotion by the end of January, but as Valentine's Day drew closer, promotions dipped slightly, yet remained over 30% through 14 February. Additionally, promotions were at a higher level YOY perhaps indicating why there were fewer listings in 2020 as it becomes harder to sustain effective margins.
3. Ensure your products are easy to find in search through effective ranging
Ensure you're listing your SKUs with the main retailers and make sure you are making your confectionery the easiest to find by creating a Valentine's category.
Did you know that in 2020, Ocado had the highest percentage of valentine's listings? Ocado had a 47% share of products, and Tesco had the lowest range, despite having a Valentine's Day shelf.
4. Consider the best positioning for your brand
Bespoke SKUs included luxury treats and more fun occasions, with premium chocolates and fruity confectionery being the pick for Valentine treats.
As a brand owner identify if your product(s) are suitable for the most popular Valentines ranges, ensure imagery, pricing and your brand USP's align to the target shopper. Godiva, Lindt and Prestat were the most effective at getting brand coverage over the Valentines period.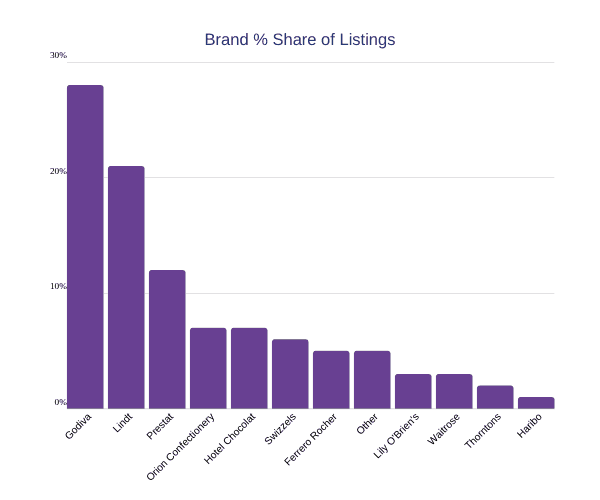 Download the full Valentines Day 2020 Infographic
We summarized all the above-mentioned Valentine's Day insights in a quick infographic. Download the high resolution version here

Optimize your brand for eCommerce 
If you are looking to get daily actionable intelligence where you can inform your overall eCommerce strategy, speak to us at e.fundamentals to learn how our eCommerce analytics platform can support your brands online needs.
Learn 5 ways category managers are looking to boost sales in 2020?