Welcome to The Digital Shelf Cast by e.fundamentals. The monthly podcast dedicated to helping growth-driven brand leaders win in eCommerce.
How to win on the Digital Shelf
The future of CPG growth is eCommerce. It's time to talk through what it takes to win. Follow our expert discussions on digital commerce trends and take away thought-provoking, actionable insights on how to beat the competition online. The discussions are led by our host Julia Glotz – former editor and managing director at The Grocer and experienced podcaster herself. Each episode will close off with key tips and tactics leaders can put to the test to drive digital shelf growth. Enjoy listening!
A CPG's Guide to Black Friday 2020
In this episode Julia talks with John Maltman, CEO e.fundamentals and Christian Hassold, VP EMEA Salsify about challenges and opportunities for CPGs and retailers around the upcoming Black Friday event and against the backdrop of the pandemic. Our guests reveal moments of surprise, their sources of leadership inspiration and explain how category growth on the digital shelf can be planned for with a holistic eCommerce strategy.
📝The Show Notes
Examples of changes our guests have seen since the pandemic hit, how brands have reacted and moments of surprise (02:30)
Fact and figures that captured some of the scale of the shift to online (08:30)
What kind of incentives our guests believe are going to work in the current context and what retailers and their CPG partners can do to make sure these deals really come across as genuine on Black Friday (14:59)
Why building direct relationships with consumers and getting directly in front of consumers' concern, consumers is something that needs to be part of CPGs' Black Friday and Golden Quarter strategy (19:11)
Examples of what some of the smartest CPGs do around systems and workflows to make sure they are equipped to meet increased demand in the omnichannel (21:04)
The types of questions CPGs are asking off Digital Shelf analytics data, and more so the ones they should be asking but aren't (25:41)
Common myths about what it takes to win in eCommerce, and what it takes to use the services like DSA and PIM (29:19)
What have both leaders done within their organisations to respond to the pandemic and moments that stood out to them (37:24)
Where do our guests take inspiration from as leaders during challenging times and what does the concept of 'reverse mentoring entail'? (45:15)
How they respond to a curveball thrown in by our host (dinner party !) the one actionable #20secondssmart tip to navigate the upcoming Black Friday (48:38)
Don't miss an opportunity to beat your competition. Book a free consultation with our digital shelf experts today.
References, Links and People mentioned in this episode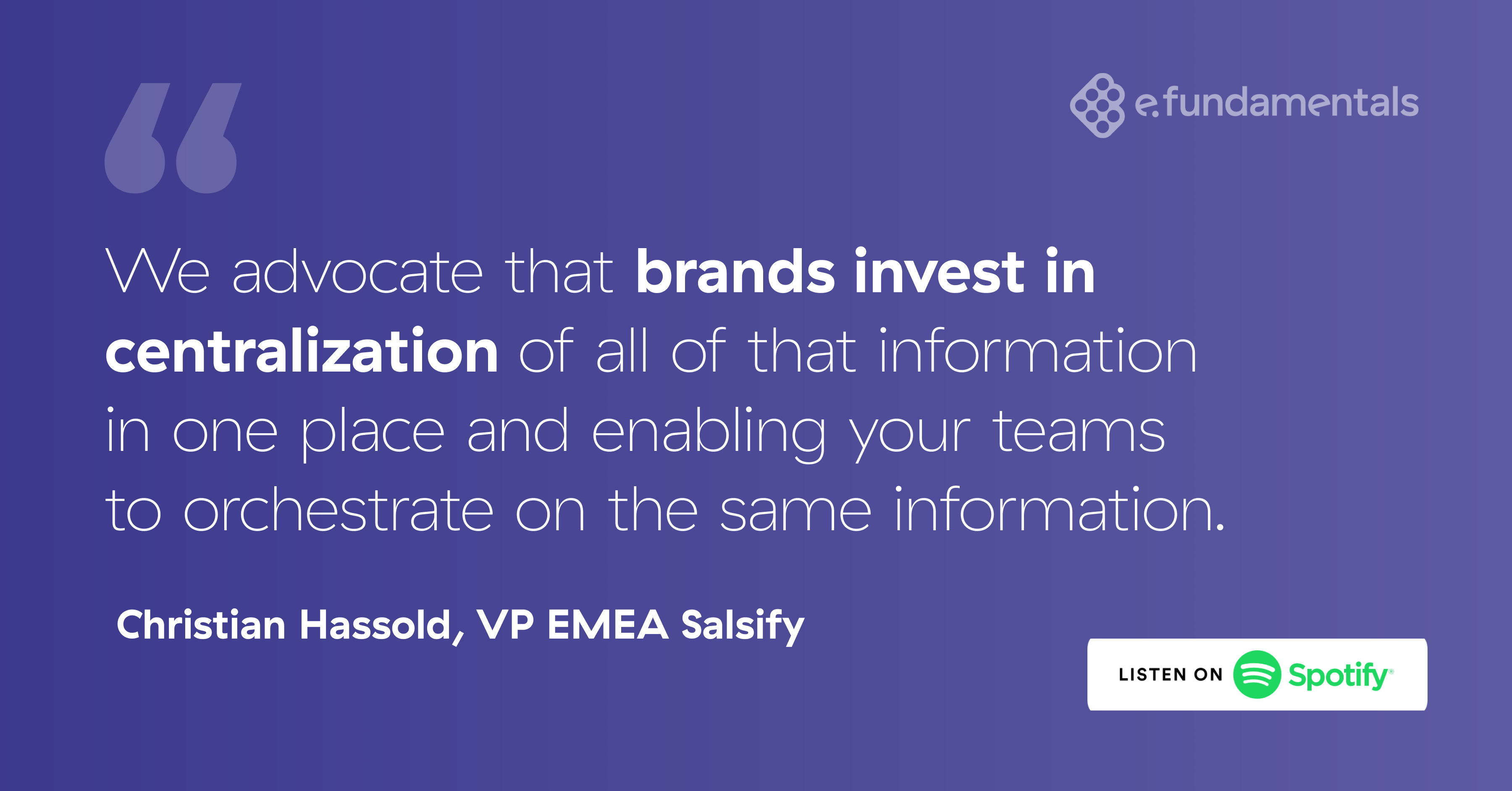 Abbreviated Transcript
Please enjoy this transcript of our conversation with John Maltman, CEO e.fundamentals and Christian Hassold, VP EMEA Salsify. This comprehensive discussion illustrates the importance of having a holistic eCommerce strategy and why it's critical for CPGs and retailers to put an agile mindset into practice if they want to drive hyper-growth on the digital shelf.
A quick note on the legal conditions
e.fundamentals owns the copyright to all the content in The Digital Cast podcast and the transcripts, with all rights reserved and our rights of publicity.
We're happy for you to do the following
Feel free to share up to 500 words of the episode's transcript in media articles (The Grocer, Financial Times or the Guardian), on your personal website, in a non-commercial context such as an article or blog post (e.g. Medium), and/or on a personal social media account for non-commercial purposes, provided that you include the attribution to "The Digital Shelf Cast" and link back to the efundamentals.com/podcast. Media outlets with advertising models are permitted to use excerpts from the transcript as per the above description.
What we'd like you to refrain from doing
It is not allowed to copy any portion of the podcast content or use e.fundamentals name, images or likeness for any commercial purpose or use, including without limitation inclusion in any books, e-books, book summaries or synopses, or on a commercial website or social media site (e.g., Facebook, Twitter, Instagram, Linkedin etc.) that offers or promotes your or another's products or services. Media outlets and journalists are permitted to use imagery from e.fundamentals. Please contact [email protected]
Thanks!
Julia Glotz: Welcome to episode #1 of The Digital Shelf Cast. So glad to have you with us. We have a cracker of a show for you, and a very meaty subject indeed for us to get our teeth into. We are talking about Black Friday, 2020, aka Black Friday after COVID, aka a Black Friday, unlike any others. Uncertainty is of course the watchword right now, are shoppers going to be ready to splash the cash and treat themselves or will the prospect of economic hardship scare them off? What categories will they be willing to spend on? And what's it going to take to capture their interest and make them feel safe while shopping in the current climate?
One thing that is certain is this: eCommerce is going to be taking centre-stage this year. We have already seen a massive shift towards online buying in the wake of the pandemic. And with social distancing protocols evolving all the time, in-store sales Bonanza is pretty much going to be out of the question this year. Instead, eyes will be on online. For CPGs and retailers, this is a great opportunity. But the stakes are also high with 30% of all retail sales occurring from Black Friday until Christmas, and in the US alone, 93.2 million buyers made an online purchase on Black Friday last year. So given the scale of the event against the backdrop of the pandemic, the pressure to get your eCommerce strategy right and set yourself up for a solid Black Friday and a solid Golden Quarter this year has never been higher. Luckily, we have two experts who can talk us through how to achieve exactly that.
I am joined by John Maltman, CEO of e.fundamentals and Christian Hassold VP for EMEA at Salsify. Gentlemen, welcome. Before we jump into the nitty gritty of Black Friday, I'd love to just get your take on some of the changes in shopper behaviour we have seen so far this year, and how CPGs have managed to navigate those. John, I'd love to just start with you, and what has stood out to you in terms of the changes you've seen since the pandemic hit, and how brands have reacted to those.
John Maltman: As we saw the pandemic unfold, we saw our clients and potential clients react in three ways. Firstly, for many of them there was a huge focus on health and wellness and management businesses said, of course, but also just keeping operations up and running and making products available for some that still remains a major area of focus. For others, there was a refocus on eCommerce, but lastly a continuation perhaps acceleration of some of the plans they already have.
For the real winners, we see CPGs who looked at what's happened in the pandemic and realised that this is a step change and [thought] we need to revisit and rethink the amount of effort focus they're putting against eCommerce in particular, and not only are we starting to see a lot of experimentation in terms of where to spend money how to spend it, how to combine promotion spend transparent. So a lot of really clever investigative thinking.
Julia Glotz: Lots of clever investigative thinking. Christian, does that resonate with what you were seeing as well? What have you seen that stood out to you?
Christian Hassold: Yeah, I mean, without a doubt, they're definitely thinking more outside the box. I think I've seen two trends that may just add on to the points that John made. Number one is [that] any brand who had a three to five year eCommerce plan, simply took a big knife and swat it in half and said, "What can we get done in 12 months?" And the other thing that we saw is associated with that was a lot of eCommerce team budgets are actually beg[ging], borrow[ing] and steal[ing] from different parts of the operation, whether it's IT or marketing. We saw the executive level of many brands make the hands down decision like "We are going to move money from trade spend or money from ad spend directly into eCommerce, to support the acceleration that needs to be carried out". So those are the two big shifts that we've seen in brands acting upon those pretty swiftly.
Julia Glotz: Is there anything in that that surprised you [Christian], anything that you've seen CPGs do as they've reacted to those changes that has perhaps been unexpected.
Christian Hassold: Yeah, I mean what was expected was that brands would lean into eCommerce. What was not expected is how quickly the C-suite would get involved in funding the initiatives. Traditionally, the C-suite has not gotten as pointedly involved in the actual funding of eCommerce investments to the level that we've seen them do. And I think this is the beginning of a trend that, going forward, is going to continue. They're just going to have to pay closer attention you think about it through the lens of a CPG, of course they're not going to pay very very close attention to eCommerce, because it is 6 or7or 10% of the overall business in any given time so it's where the primary business exists today. However, they are clear now, as a consequence of the current times, that those are where the investments need to be made because that's where the shift is going.
Julia Glotz: John, is that something that you're seeing as well? Are there other aspects of how brands reacted that stood out to you or perhaps surprised you?
John Maltman: I certainly agree with what Christian just said. One of the things that really impressed me was [the] retailer's ability to move quickly once we saw the change. You see all across the world examples of retailers reconfiguring the way you go to the market, be thinking about their whole structure, making big bets in terms of the route to market strategy they're going to deploy, particularly on the kerbside. I've always had a great deal of respect for the speed of change that can be done in a retail organisation. I think that was amplified in the pandemic; really somebody's standing for us to make shopping as safe as possible for people and respond to that whole new shopper demand.
Julia Glotz: Now you're big data, guys. So before we jump into all things Black Friday, I can't resist the temptation to just check if there are any sort of data points or key statistics around the changes that we've seen in eCommerce this year that you think sort of captured some of the scale of the change that you've seen.
John Maltman: Yeh, So there's a wonderful chart that Bank of America issued a few months into the pandemic which basically showed that eCommerce penetration had grown as much in the last few weeks as it had in the previous 10 years. And that really caught my attention, because what it said was, this is not in blip; this is a major sea change, and it's going to force everybody to rethink the role of eCommerce. And that was then amplified by the businesses side of it: some great interviews with regional leadership in the US, in particular, talking about the impacts having their organisations. Now one of the points that was made in that series was that the reason the route to eCommerce will persist, is [that] it was simply an acceleration of trends that were already in place. It's not a new response, but it did accelerate. Back to Christians point that things that we perhaps thought are going to take three to five years, simply happened in a few months.
Julia Glotz: Christian, I'll throw that question your way as well. Were there any sort of key facts and figures or stats that jumped out for you?
Christian Hassold: Yeah, I mean I have to think of Benedict Evans who has an incredible blog that talks about these things. He highlighted two charts, UK retail sales including grocery in January of 2020 were just over a billion pounds per week. And in roughly early July, it was almost 2 billion pounds per week. That's a rough cut. And then what he also observed was essentially 10 years worth of eCommerce growth occurring over three months. So from 2010 to 2020, eCommerce retail sales in the UK grew from 10% to roughly 20% during this period, spiking to over 55%. So that data is incredibly telling and you can see as you're looking at the charts that he shares on his blog, you can see that while the trend is coming back down a little bit, it's gonna land at a holding pattern. And I think one of the reasons why it's gonna land in a holding pattern is because so many retailers, and so many businesses had to really optimise the online experience. They've made it now incredibly convenient for consumers to make an online purchase, and it's almost disincentive retail buying, in many ways.
Julia Glotz: Great, I' a big fan of Benedict's bloggers are so, and we'll make sure we put some, some links in the show notes so that listeners can actually follow up and have a look at some of the data sources that both of you talked about as well but let's dive into all things Black Friday. Now again, I'd like us to just start with the big picture here and then we'll drill into specifics from them, and John if we sort of start with an exercise in comparing and contrasting. What do you think is going to be the biggest difference or the biggest differences about Black Friday 2020 compared with how the event unfolded in previous years?
John Maltman: Well, firstly I think you need to acknowledge that there's going to be a high degree of unpredictability about it. We're going to see behaviours we haven't expected, perhaps. One of the big backdrop items to consider though is just the economy and you're ready to go. They McKinsey Oxford economics predicted US discretionary spend wouldn't return to pre-pandemic levels, until Q3 2023. That's a long time to be underwater in terms of equipment spent. And I think the Black Friday will be the first time when the economic impact will really start to come on to shoppers. And I think it'll be hunting for deals, and they'll be hungry for deals.
I think there'll be a couple of impacts of that: one is that Black Friday will become an even bigger event this time. I think it'll start earlier. I think advertising will kick in a lot earlier and I think it will feed longer in the system as well I think we'll be more deals for longer. And I personally think that deals will be deeper and more than previous years. There's a lot of companies with a lot of stock picking to clear through the system. And I think Black Friday is an important part.
Julia Glotz: I think it's interesting the point you raised about the length of time or the period that we're going to see deals and I think Home Depot, most recently came out talking about two months of deal activity rather than really concentrating on that particular date. Christian, that sort of length of the duration of a Black Friday deal activity is of course a trend we have seen in previous years already. Is that something that you are expecting to accelerate this year as well?
Christian Hassold: Yeah I think so. I think retailers are really aware that people are at home, and in their idle time that they're just like to get away from the glass that you're sitting in front of all day talking to people on screens. One of the great ways to just sort of unwind is to just go shopping, I do it myself. I mean I don't always buy, but I'm going to the glass and I'm looking for deals and looking for offers that are attractive to me and I already have started thinking about for holiday purchases what I want to do; so I agree that we're gonna see a change in that buying dynamic.
Julia Glotz: I was interested in the point that John raised about being deal hungry and a real desire for consumers this year, against that difficult economic backdrop to make sure they're getting a good deal. And in previous years we have seen a growing debate about just how genuine some Black Friday deals. I think there's growing pressure on CPGs and on retailers in particular to prove that a deal is a genuine deal that is sort of tied to Black Friday activity. I'd love to just get your take on what you think that means for pricing and promotional strategy for Black Friday this year.
Christian Hassold: Yeah, I think one challenge that retailers, whether a brick and mortar or online, are facing — because usually the teams that manage the offers are different teams— is that in order to sort of recover from the lockdown, they have had to put significant offers out in front of the consumer to entice them to come back to the store. I've seen different retailers, whether it's an off brand retailer, get a little bit more aggressive. Whereas I've seen Nike a little less aggressive. I just went to the Nike store, on Oxford Circus the other day. There really weren't a lot of deals to be had. So I do think it's, you know, a little bit brand specific and a little bit what your customer segments specific but what I do worry about is that there's just so much incentive to try and drive consumer activity right now. How much lower can you go? How do you make what's compelling and interesting occur specifically on Black Friday? So what will those incentives look like look like
Julia Glotz: John, what's your sense of what kinds of incentives are going to work in that context and what retailers and their CPG partners can do to make sure these deals really come across as genuine on Black Friday?
John Maltman: I think that one of the things that people should consider is managing the Golden Quarter as a quarter and see Black Friday as just one element of a value programme that will go through Christmas, Cyber Week, and New Year. And if I was investing in that sort of programme, I personally would invest early; because I think the event will come and I think as we get through the quarter, it's quite likely that the economy will get more and more adverse, and so therefore shoppers' eagerness to buy might diminish a little bit over time. I think the other piece is that, I think it's really quite hard to tell what will resonate and what would not, which categories. And so I would be really paying very close attention and adjust my plans fairly quickly and layer on by the shoppers responses, or competitive activity.
Another piece for me [this Black Friday] would be that I would use this quarter that's coming up as a laboratory. Managing value is going to become a key skill, through 2021- 22. So I'd be looking real hard at what triggered the right responses, what got demand up, which media worked, which didn't. What type of promotions that shoppers reacted to. I've been going very very deep on the sort of cross match analysis on this, to see what can we learn for future buying activities in the market.
Julia Glotz: Christian, John talks about having a sort of lab mentality. As we enter the Golden Quarter this year and you are a CPG brand right now and you're looking at Black Friday as a Golden Quarter with perhaps a sense of nervous anticipation, if you will. What are some practical things that you think brands can do right now to be more prepared and to have that kind of agility that John talks about and respond to exactly what ultimately resonates with consumers?
Christian Hassold: Salsify works with about 800 brands around the world and one of the consistent things we noticed is that the most successful brands have strategy behind their digital transformation, behind their eCommerce practice and strategy looks like this: what are the goals, what are the KPIs, what do we do, what do we want to achieve from a revenue perspective, from a customer engagement perspective, what are those conversions? What will those look like very specifically, and then how do we get there. Brands that are less successful tend to be incredibly tactical in their line of thinking: what website technology are we going to use/ What agency is going to help us with our Instagram channel? They're very tactical to do these kinds of items and those to do lists are not necessarily wrong; it's simply what is the goal?
Getting into the data: the average revenue growth at a top 30 global consumer brand fell from 4.5% in the 2007 to 2012 timeframe to just point 4% annually from 2013 to 2018. And the other data point that comes along with that is more than 22 billion in sales is moving from larger to smaller companies between 2011 and 2016. And the last one is smaller brands are 65% more likely than large brands to outgrow their category. And so, what is the brand doing to capture the consumers' audience. Some of the questions we were talking about here relate to the offers that a retailer might have, but the better question is, what are some brands doing to get around the retailer ecosystem and to get to the glass that the consumer is currently looking at?
Julia Glotz: John, that sort of sense of building direct relationships with consumers and kind of getting directly in front of consumers. Do you also see that as something that needs to be part of a CPG's Black Friday strategy or Golden Quarter strategy this year?
John Maltman: I certainly think that communicating with the shopper in a way that is relevant and resonates with them is extremely important and I think that, in particular in high engagement categories where people are making very considerate choices, making sure they get the information they need to turn interest into a sale it's extremely important. For me that very often is about calling out the key benefits, rather than just describing the features of the product, and I see too many product descriptions for example too early, too heavily focused on features rather than benefits. That's work that is important at all times. I think that for me in trying to manage towards a Black Friday and value company in the final quarter.
There's two things to consider: one is how to stand out; it will be a crowded market, there'll be a lot of noise. So really working hard to understand how to get your message in front of the shoppers. [as] Christian pointed out. The second piece is, is to make sure you maintain availability. It's a real brand killer to lose availability on core lines through this period, particularly when shoppers are online, because we've conducted research that says if the brand they want isn't available, they will switch. We're in a much more competitive space than that of a physical store, so it's extremely important to manage both your presence and your availability.
Julia Glotz: And I think that brings us nicely on to talk a little bit about what needs to be happening behind the scenes in terms of systems, in terms of workflows to manage aspects like availability. John, what are you seeing some of the smartest CPGs do around systems and workflows to make sure they are equipped to meet increased demand through eCommerce channels?
John Maltman: One thing the pandemic has done, it has accelerated something we always felt as a business was going to be the outcome. We took the view that if you're working in sales and marketing, you'll need to understand how to operate the omni channel. And I think the pandemic has probably brought us to that a lot closer. So this is like Tesco or Walmart in the US combining their eCommerce operations with their in-store operations, both in terms of the way they buy but also the way they design stores for replenishment in-store. And that means you've now got merchandisers and buyers with the responsibility for the omni channel, and they need to be faced by customer teams who have experience and expertise to bring to that discussion. And from many many companies that's quite a major gap.
I spend a lot of time talking with customer teams in Bentonville, for example, and getting access to insights that are relevant that they could take to their customer to help them shape a strategy for the omni channel is really quite a challenge for them. So, I think figuring out how to upskill the frontline managers in the organisation, not just customer teams but category teams shopper marketing revenue growth management. And it changes the role of the commerce team, in my view, the comms' teams to become very focused on setting strategy, developing on best practice and equipping the frontline organisation to work effectively in the omnichannel. I think this is something that'll become increasingly important. And in my view, that's already quite urgent and an area where many companies have a gap.
Julia Glotz: Christian that point about making sure that teams are equipped with the right skill sets to respond to the growing importance of eCommerce. Is there a sense that the pressures of the pandemic have made it more difficult for companies to resource eCommerce functions appropriately? Is that something that is emerging as a, as a potential worry for instance, from what you're seeing.
Christian Hassold: Yeah, I actually talked to Andy Davies who's a fairly well known eCommerce recruiter here in the UK, and he's observed a really interesting but also concerning trend. One is that CPGs are actually looking for much more tactical hands on staff members for the eCommerce teams and actually de-prioritising manager level type of hiring, but it is important to have the tactical talent, but I worry about brands using humans to solve problems that can be automated at the expense of deploying a strategy which is usually something that more senior level management talent can help orchestrate. As an example you know one thing that has been really really hard in the current market is hiring people who can take the kind of data and analytics that something like John's company e.fundamentals turns out, and profitably really put that to work. Analytics talent is one of the most short [and] difficult to fill talents in the eCommerce field, and you can have a really great solution but then you need to put that information to work in a very meaningful way. I think the talent that's necessary to make a brand successful in commerce needs to be a very balanced line up of hands on and strategic leadership. You don't keep those things even, you set yourself up for potential risk, because you're not really looking at the goalposts further out, other than just what do we need today to get by until tomorrow.
Julia Glotz: On that point of data, John you've talked at various points about the importance of making sure that you have access to insights that allow you to respond, based on evidence to some of the changes you're seeing in the market, what kinds of questions are CPGs asking off your data and what kinds of questions, perhaps, are they not asking that you think they should be asking?
John Maltman: Quite a lot of the discussion centres on, "have I got the right product communication, the right images the right descriptions, right benefit statements." I'm with Christian on that, that technologies evolve and work should be getting locked and should be getting automatically distributed as much as possible. They should be taking out less management time. Where we get asked a lot is, "how do we win in search, in individual retailers?". When everyone has their own set of algorithms, how can I make sure that we have presence in the search. And we can help solve that. The question we don't get asked enough is, what can we do to make sure that our category strategy is playing out in online retail stores. So you may be in a category where there's a fantastic opportunity to offer the shopper a chance to uptrade better quality products. If the search algorithms are driving people to the lower priced, feature led products. Now that you actually have been downtrading the category rather than uptrading the category. So we think that CPGs, by and large, have an awful lot to learn about category development, and they should be trying to figure out how to build playbooks that would allow them to deploy the kind of strategies through online retail. And we see that as quite a major gap and that is something that we specialise in.
Julia Glotz: Christin, I'll throw that question your way as well. What are some of the questions again that you find CPGs are asking of data that are important to ask and also some of the gaps, some of the questions that perhaps not asking to John's point about category focus, for instance.
Christian Hassold: Well, I think, brands are obsessively focused on who's winning the buy box. Where do I appear in product search on Amazon, or on my retailer site. You know, what competitors are taking share from our category if we're not at the top of the category. They're constantly monitoring and looking at that data. What I frequently find is they're not looking at the why, which is why are you not winning the buy box. Why is your competitor beating you in search? Is it price, is it content, is it some other factor that's taking place? There's usually a focus on the goalposts, but not necessarily how to get to the goalposts sort of along the lines of what I mentioned earlier.
Julia Glotz: Are there any misconceptions or myths about what it takes to win in eCommerce or possibly even what it takes to use the services and technology that you both provide that you find yourself having to challenge frequently. John, is there anything that any myths that you find you persistently run into?
John Maltman: Yes, for sure. There's a myth that everything needs to be focused on the individual sku level. I think there's some very important big picture stuff you can see when you look at digital shelf analytics and the way assortment has been laid out to the shopper, the way search is working. You can learn a lot by really looking hard at the shopper feedback that people are kind enough to leave for you, good and bad, you have been a competition. Taking the bigger picture as an opportunity that's often missed.
One area that is becoming extremely important is that manufacturers are switching a lot of money into retail media, so they're buying planners and they're buying programmes, outside the reach of online shops. They're unclear as to whether they are generating return on investment. And they see the amount of money that is involved is getting bigger by the minute. And I think it's gonna become extremely important for the CPGs to learn how to combine media management with trade promotion and work the two together. I think there's a lot of productivity to be gotten from that. To me that needs to be generated in a climate where shoppers are looking for value, you've got to fund value somehow. But to do that, by managing your investments, as well as you possibly can. And also using media and promotions to manage my expenditure. That's a skill that isn't. I don't see enough of it.
Julia Glotz: Christin, are there any particular misconceptions that you frequently run into when you talk to CPGs about the eCommerce strategy but also perhaps about the technology or the services you provide?
Christian Hassold: Yeah, Salsify, of course, is here to help brands win on the digital shelf, but we're really more about the mission than the platform itself and so I'd say, one of the things we notice is brands may focus on a particular goal post data point like "I need to have 250 ratings and I need my ratings score to be over 4.5", or "I need to have all my descriptions, you know with at least 300 words or more in order to rank in search". It's interesting, we, we ran a consumer survey in August of more than 1000 consumers in the United Kingdom and we asked them this very question which is, of what of these pieces of content are most important to you, please rank them in the order of importance and very interestingly, with little sort of statistical insignificance across categories pretty much consumers care about everything, but product videos. Product videos are a very very slim piece of the ranking but otherwise the ratings matter, what the quality of the ratings matter, the images matter that do the describe the complete descriptions and features and benefits that John mentioned earlier, all of those things matter.
So, simply investing in one of those pieces is not really doing a full service to the experience that the consumer is looking for, which is why we advocate that brands invest in centralization of all of that information in one place and enabling your teams, whether they're in the UK or in Germany or in France, to be able to orchestrate on the same information so the work that you're doing, is not trying to build the same content, over and over again, every place that your brand operates, but really focusing on making sure that the quality content starts from one solid foundation and can easily be shared with trade teams around the European continent.
Julia Glotz: I suppose if you are a CPG and you're listening to this you might end up feeling like you've got a really long laundry list of things you need to get right and then how important obviously not just for Black Friday or the Golden Quarter but generally, when it comes to building a solid eCommerce strategy. If you had to distil it down to a priority that a CPG brands should be focusing on as they try and put themselves in the best possible position for this year's Golden Quarter, for this year's Black Friday, out of all of the different things we've discussed what do you think is the most important area for them to focus on and prepare for right now?
Christian Hassold: I think the one thing that a brand can do to help itself, define success, is to define the KPI that is success. Is it increasing conversions by half, or a full percentage point, is it growing your share of category on your favourite retailer site by 3, 5, 10 %? Whatever that KPI is, define that KPI; something that's obviously achievable, and then work your way backwards from "how are we going to achieve that goal?" Is it, we need to get more product selection live with this particular retailer, is it, we need to make an investment in the kinds of product information we share so they can fully provide that complete experience to the consumer or if it's increasing conversions - what are the five partners that you need to really make a stronger investment in to ensure that you're going to have that higher conversion, or broader share of category.
Julia Glotz: And John, if we take all the possible things that that CPGs should be considering at the moment and really focus in on what you think is going to make the biggest difference around Black Friday and the Golden Quarter this year, what would be your key priority?
John Maltman: Yeah. Julia before I go, narrow into Black Friday, let me just say that if I look at the challenges facing CPG as they think about the omni channel and winning the eCommerce channel. It does look like a very big task list And it is. And that's why trying to do it all through an eCommerce department or team is almost going to fail at this stage. Companies need to think about equipping the marketing team to write great copy for their products, to launch products with a digital first mindset for example. You need to think about what account managers need to be taking to their customers to shape strategy, you need to think about the revenue growth management opportunities that are within the digital shelf analytics. So it's about getting the right insights to the people who are doing the work. And that's the biggest challenge.
Suddenly that you've got to scale up to be able to make big changes. To bring into Black Friday, I would suggest that the most important skill to develop through this Black Friday event and the core of the fall is all about learning how to be very agile, things are going to change really quickly, you need to be seen what's happening, and respond to quickly and be comfortable with the idea of doing experiments. Try things to see what works and not be worried about failure, because you can learn a lot by things not working. So, I just think that many companies talk about having an agile mindset. I think that this is something that really needs to be worked on and Black Friday is a great time to do that and the Golden Quarter is a good time for that.
Julia Glotz: Now, the pandemic of course, isn't just a challenge for eCommerce as much as the challenge around Black Friday and, and the Golden Quarter of retail and CPG. It's been a challenge for businesses of any kind. You are business leaders yourselves, and I'd love to just get a sense from you on what difference the pandemic made to your business and what you did internally to help your business, respond to that. Are there any moments for instance that you were particularly proud of, Christian, thinking is there anything that comes to mind?
Christian Hassold: Well, I think, regardless of the business that you're in the principal challenge has been the workforce is now distributed, and how do we enable a distributed workforce to remain productive and enabled, and of course we're all staring at video screens all day so how can we be over index on making sure that our teams and our people go out for a walk more, you need to get out of the room and relax and organise your schedule in a way that keeps you sane. It's really hard being locked in a room and looking at a computer all day. It's also, I think significantly increased the amount of time necessary to communicate with others since you're not in that traditional office environment so it's changed the nature of communication and of itself but I think, you know, the great challenge of the next couple of years, as this is going to go on longer than we expect, is really going to be optimising collaboration among a distributed workforce and enabling teams, whether it's digital teams or whether it's business teams for a bank, to continue to be successful and serve the consumer through this, this extraordinary times.
Julia Glotz: John, what have you done within e.fundamentals to respond to the pandemic and again were there any sort of moments that stood out to you from your teams that made you particularly proud?
John Maltman: Well I was super proud of the way the team reacted to moving to hallmarking. We do quite a lot of team feedback sessions, and the level of trust, that's been built across the team over a number of years, really paid big dividends when we had to change ways of working, and I really appreciate the way that everybody's been flexible and how worked hard to help each other through that. The other thing that was clear is that as the pandemic unfolded, certainly in the first few weeks, first month or so everything slowed down. So, decision making slowed down, getting into the clients was harder as they figured out how to configure themselves. But it was very clear to us and good enough to be a genius to work it out, that eCommerce was going to be one of the areas that would be stimulated by this whole thing. So we took the opportunity to re-examine every aspect of our operation from value proposition to the way we organise our technology or what customer success means for us, and we went deeper; we challenged ourselves in every space to think about what does it mean to go from good to great. So, as the market started to expand, and it has expanded, it's growing quickly now, we were in better shape to present our services and products.
Of course what has happened as we come out of that sort of configuration, re-working things is that now we find decision times have collapsed, decisions are made so much faster than they were before, the ambition levels have increased dramatically between potential clients and satisfaction with the way things used to get done, is no longer there. People are looking to be disrupted, to have their thinking disrupted. This has a fantastic opportunity for businesses like ours, businesses like Christians'.
Julia Glotz: Where do you take inspiration from as a leader during these sorts of challenging times what, where do you get ideas advice from to help guide you are there any, any books that you've read or anyone that you sort of pay particularly close attention to and enjoy taking inspiration from, Christian, anyone that comes to mind whose ideas have really helped you as a leader during that period?
Christian Hassold: I'm a reader. I do enjoy a book occasionally, my wife reads about two to three books a week, I can do probably two books a month. They put me to sleep pretty quickly but I just finished reading "Good Strategy / Bad Strategy". The 'great escape' in these times is just being able to read other people's ideas. I really like business books that incorporate history into the current times. So that's perhaps my favourite. I think if anything doing something that sort of takes you away from the current, present place you are and gets you to do some critical thinking is my sort of valuable escape from the world, especially since the choices are call one of my friends on Zoom and look at the computer more, which is quiet down with me.
Julia Glotz: John, do you have books that you've read or any sort of strategies that you've found to kind of get away from it all and, you know as Christian says, not constantly sitting in front of screens. How do you get fresh ideas and kind of revitalise yourself during a period like that?
John Maltman: Well, getting away from it all and getting fresh ideas of two different topics, so I binge watch TV like lots of others when I get a chance. Then, what I have found is that the Zoom culture makes it very possible to have lots of really cool, mentioned discussions. So I spend quite a bit of my time nowadays, doing market research that I would have delegated to other people. Setting up one on one calls with business leaders, and just having a discussion about what are the challenges they're facing, and particularly in the area of eCommerce but broadly commercially as well, and how that might impact our business, I find that extremely helpful.
The other bit is, I've started to engage more in an idea I stole from someone else which is reverse mentoring, which is basically getting younger people in your business to spend a bit of time talking to you about their lives and how they're doing things. And it's really powerful to see the world through other people's eyes. So, like everybody, I sometimes spend too much time in front of the screen, but those two outlets in particular I found really interesting.
Julia Glotz: Fascinating reverse mentoring that sounds like it would throw up some very interesting food for thought but including from an eCommerce perspective. Now, before I ask you to wrap things up and distil what we've discussed into a piece of actionable insight. I'd want to throw a slight curveball your way. So, if you could have dinner with any person or up to three people dead or alive, who would it be and why, and they don't have to be eCommerce or CPD related. The choice is yours. John I'm going to throw that question your way first, who would be part of your dinner party.
John Maltman: Not necessarily all at the same time, but I'd love to have dinner with Indra Nooyi, who was the chairman and CEO of PepsiCo for many years. I worked for her. She has been an absolutely inspirational leader, she would get what we're doing and why we're doing it straightaway. And she'd come up with many ideas to build on it very, very quickly so that'll be a fascinating discussion. Slightly more selfishly, I'd like to have dinner with Mike Ashley, on the basis that he pays, he is the owner of Newcastle United and would be one way of getting some value from my season ticket. And then finally, very close to home. I'd love to have dinner with my father, because he'd be so proud of what we've achieved with our business.
Julia Glotz: Fantastic, Christian, who would be part of your secret dinner party?
Christian Hassold: Wait, so I didn't realise this is multiple people. How many people do you get to pick?
Julia Glotz: You can have up to three, we'll allow you up to three.
Christian Hassold: Wow, That's difficult. Well, look, I think for a dinner party. You know less is more. So I go with Warren Buffett and Bill Gates.
Julia Glotz: That's a fairly heavy hitting dinner party. I think you'd get god value out of it.
Christian Hassold: They sound like they're great guys to play cards with, and you know they're two people that I admire greatly for, you know, the contributions and the commitments they've made to return their wealth to the you know, the cause of good and I think that it's always great to see people who have that, are fortunate and also are quite and have a good level of humility.
Julia Glotz: Fantastic. I think we're out of time. Really great insights from both of you both on eCommerce and also on that on dinner party plans. I think there'll be really, really useful for anyone gearing up their eCommerce business, not just for Black Friday, which of course is what we are focused on, but also for the Golden Quarter and beyond. Before I let you go. I'd love you to share one actionable smart tip with our listeners. You've provided lots of tangible and actionable advice throughout our conversation, but if I can just ask you to narrow it down to one smart tip. We'll call this your #20secondssmart - John, what's your one actionable tip for our listeners.
John Maltman: I would really recommend people focus on upskilling their sales and marketing organisation to win and work effectively in the omnichannel. It'll allow you to bring everything you know about your brands, the category, revenue management to the table; and you're going to need it all to win in the omnichannel.
Julia Glotz: Christian, you're 20 seconds smart for our listeners.
Christian Hassold: If there's any lesson that brands would have learned over the last quarter, it's that you can't place all of your eggs in one basket. Amazon is a great partner, but they too can be constrained. Look at your circuit - second, third, fourth, fifth and sixth and seventh retail partners and make sure that they're just as enabled as your number one partner because that's where the consumers are probably going to go if they can't find what they need, at the number one spot.
Julia Glotz: Great.
John Maltman: That's a good one!
Julia Glotz: Gentlemen, thanks for your time.
John Maltman: Thanks Julia, thanks Christian.
Christian Hassold: Thanks, it's been a pleasure.
Make sure you subscribe and listen to our podcast on iTunes, Spotify or Google Podcasts.